CNN Belief Blog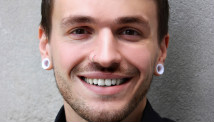 Editor's note: Chris Stedman is the author of "Faitheist: How an Atheist Found Common Ground with the Religious" and the assistant humanist chaplain at Harvard. You can follow him on Twitter at @ChrisDStedman.
By Chris Stedman, Special to CNN
(CNN)—This year, Congress welcomed the first Buddhist senator and first Hindu elected to either chamber of Congress, and the Pew Forum noted that this "gradual increase in religious diversity … mirrors trends in the country as a whole."
But Pew also noted one glaring deficiency: Religious "nones" were largely left outside the halls of Congress, despite one in five Americans now saying they don't affiliate with a religion.
There is, however, one newly elected "none" — but she seems to think "atheist" is a dirty word.
Rep. Kyrsten Sinema, D-Arizona, was sworn in a few days ago without a Bible, and she is the…
View original post 717 more words